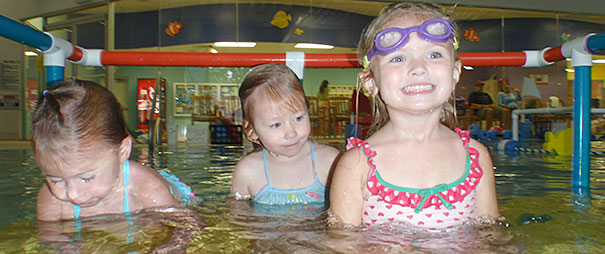 Children will, no doubt, be around water and exposed to water situations many times during their lifetimes. Whether participating in water activities or merely being on the sidelines at swimming pools, lakes, beaches, water slides, water parks, park rides and the like put them close enough to water to need swimming skills to ensure their own safety and to relax and have fun while being in these environments. This makes learning to swim important to their quality of life and essential for their well-being.
The best time to learn this skill is during childhood so that the above mentioned activities can be enjoyed and parents can have peace of mind when their children are around water. Of course, as swim instructors, we believe that learning to swim is a life saving skill! We recommend that children become safe and competent swimmers and understand water safety.
Helping children become water safe takes time
Each child has their own pace of development. Babies and toddlers with good water experiences "under their belts" tend to develop more quickly because they do not become anxious around the water.
Learning to swim also takes time. The skill must be developed and practiced. It is a good practice to include swimming in weekly activities so that practicing the skills is expanded outside of lessons. This encourages and maintains water safety and fitness benefits that swimming offers you.
(300 yards of freestyle swimming is considered a good measure of water safety by experts.)
Group swim lessons help children see others perform skills
Small group lessons allow students to see other children performing the skills they are asked to do. The group setting also keeps them from feeling intimidated by the adult instructors.
But not all children learn best in group lessons. Parents must take into account their child's temperament and learning style. Private or semi-private lessons are also available.
Making a child feel more at ease on the first day of swimming lessons
Arrive early enough – perhaps 10-15 minutes – so you can get check in and understand where to go. Don't rush children into a class. Arriving early gives them a few minutes to become acclimated to their pool environment and the new people there. This is especially true if the child has had little experience around a swimming pool. If a child is very anxious about this new experience you are welcome to come in before a lesson and watch so that they can see what a swim lesson is all about.
The type of swimsuit the child wears is important to swimming success. The suit is part of the  "equipment" used to quickly teach the child to swim. Suits created specifically for swimming are designed to shed water and do not hinder movement. Fashionable suites are capable of holding as much as 5 pounds of water and that extra weight can put the wearer at a disadvantage.
Prior to the first swimming lesson
Play in the tub and splash water over the child's body gently so they become accustomed to the feeling of splashing water. Make sure to do this before soap gets in the water.  Some children will get soapy water in their eyes and then associate water with their eyes burning.
Take your child swimming. Stay close to the child and maintain eye contact with them by keeping your face close to theirs. Always stay with an arm's length of new swimmers. Warmer water is better for this.  Pools at Little Otter are a tropical 90 degrees so children can enjoy the water without being chilled.
Show them how to put their mouth under the water and blow bubbles. This is essential and teaches the important skills of blowing water out instead of sucking it in. Encourage them to mimic you, watching them closely the entire time.
When your child is ready and is comfortable in the water, allow them to float while holding your hands. You can work up to this by gradually increasing the space between you and your child as the child becomes comfortable trying to float.
The child should determine the pace. Make sure that the child maintains a comfort level in the water. Bringing bath toys along for the trip to the pool makes the pool feel like a familiar experience.