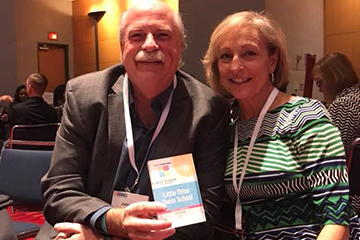 Little Otter Swim School and John Kirk have had a busy 2017.
John and his wife and business partner, Lory, have swim schools in the Charlotte area and have seen their two locations maintain rapid growth since opening their first Matthews location more than a decade ago and the Huntersville location 4 years ago. Little Otter Swim School prides itself on providing quality swim lessons in a safe and fun environment, taught by caring and enthusiastic teachers. They do so with a goal of helping children gain respect and love for the water.
John and Lory create a fun environment where children learn and develop confidence in themselves. Many parents find this approach refreshing and the experience a very positive one for their children. The success of John and Lory's approach is illustrated in the accolades they've received this year.
Inc. 5000
In August, Little Otter was named to the Inc. 5000 list for companies with outstanding growth. Little Otter Swim School earned a ranking of 3626 on the prestigious list. The swim school represents one of just a few children's activities businesses on the list.
Best Places to Work
On November 1, Little Otter Swim School was recognized as one of the Charlotte area's Best Places to Work. John and Lory were proud to see their business rank 8th in the large business category on the list sponsored annually by the Charlotte Business Journal. This is the 2nd time that Little Otter has received this honor.
Even more excitement took place for John Kirk!
President of the U.S. Swim School Association
John has been elected  President of the U.S. Swim School Association. The USSSA connects swim schools across the U.S.and worldwide.  It also helps them provide and adhere to important standards and policies and to share best practices. John has been instrumental in the association's recent growth and success by holding several offices on the association's Board as it now serves more than 400 members in 39 states and 16 countries. This year, his position as President is a source of pride as the as U.S. Swim School Association celebrated it's 29th Conference.
Recipient of the Coutts Family Scholarship
John also recently was awarded the Coutts Family Scholarship, which makes it possible for John to travel to Finland to work on a team that is envisioning the future of swim school design. The group chosen includes 3 from the U.S. and Canada and 3 from Australia.  John and Sally Coutts founded this scholarship to help develop the future leaders in the swim school industry and to give back to the swimming world.
About Little Otter Swim School
Little Otter Swim School was founded in January of 2005. The owners, John and Lory Kirk, had researched swim schools across the country and included the best ideas they found. Thousands of children have learned to swim at Little Otter Swim School.
Starting from an original staff of 5 instructors, Little Otter has grown to over 60 instructors. Little Otter offers classes in its Matthews facility, just south of Charlotte and will begin offering classes in its second facility, North of Charlotte in Huntersville, in early 2014 Little Otter is a proud and active member of the United States Swim School Association. Little Otter also supports Stop Drowning Now, The Hope Floats Foundation, and last, but certainly not least, Little Otter is an international member of the Austrailian Swim School Association. It is through attendance at conferences and involvement with these organizations that Little Otter and its owners learn the very best of what is going on worldwide in swim instruction.
More information is available about Little Otter Swim School at www.littleotterswim.com.