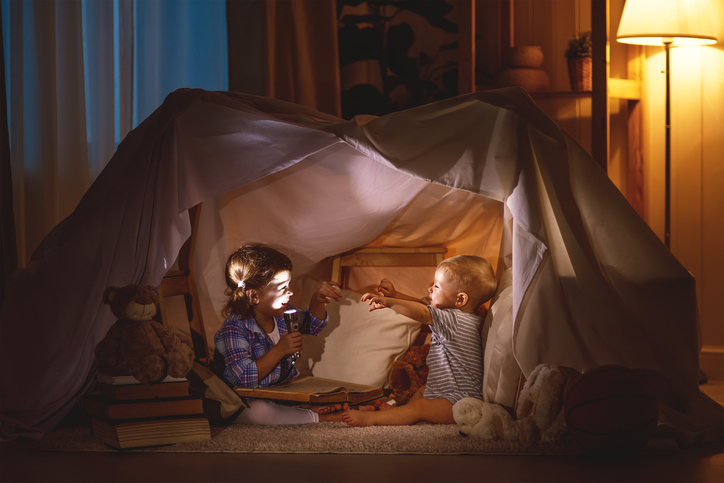 Of course, you can swim all year long – and have a great time doing it – in the winter. It is, in fact, a great activity for the winter because it provides a great form of exercise and helps your kids to practice and perfect swimming skills in the winter.
But you probably won't stay in the pool ALL the time so you may need some suggestions for fun activities for those (rare) moments you're not swimming but you want to stay inside – away from the cold.
We're here to help!
Here are a few suggestions for winter fun. We've listed 5 that have the potential to be messy and then 5 that do not. There's no doubt that after we get you started, you will be able to come up with a few even more creative fun ideas of your own.
1. Baking
Kids love to bake. Hold their interest by keeping the recipe that you can make together easily and get done quickly enough to eat for lunch or a snack that day. Read about baking skills that might be appropriate for small children.
If you have time, you can also decorate or paint the cookies you may have made.
2. Indoor picnic
To have your picnic, lay out a rug or a blanket in your family room, bring in a basket of yummy treats. All that is left to do is enjoy the treats with your family. Tell stories or jokes – or simply share something fun you've done recently as you enjoy your treats.
3. Glitter glue
Have you ever thought of making glitter glue? It's great for using with all sort of kid's crafts and artwork. Here's how you make glitter glue.
4. Marshmallow slime
An activity that will absolutely thrill your kids is one that combines two of most kids most favorite things: marshmallows and slime. And it's even edible! Here's how to make marshmallow slime.
5. Snow paint
One way to sort of enjoy snow without going out in the cold and mess – make your own snow paint. Be sure you have plenty of supplies for painting wintery creations after your paint is made! Here is how to make snow paint.
If you'd like a few activities that don't include food or mess, try these:
1. Puzzles
If you'd prefer to stay away from food items, try doing puzzles. You can buy our own, check them out of the library or borrow some from friends or family. This is something that you can work on for a while and come back to if they have a bit of difficulty to them – or finish quickly and move onto new ones if they're simple.
2. Board game 
This one is slightly old school, but your kids will probably think it's fun to play some board games – especially if they are ones that you may have played as a child yourself. Tip: Be sure the board games match the skill levels of your children.
3. A Tent
Using blankets, sheets, tables and chairs, you can create a hut or tent for kids (and perhaps you) to play in. Put plenty of pillows and chair cushions inside as well as a safe light source, if needed, and story or coloring books, dolls, cars or stuffed animals. This is also a great way to make naptime a little different on occasion.
4. Talent show
Do your own version of America's Got Talent with you as the judge and the kids as the contestants. Help them to be creative about their talents. Find items to use as pretend microphones and even spotlights. Capture it all on video so you can look back at it on a different day.
5. Treasure hunt
Create an impromptu treasure hunt. You can limit this to one room or spread it throughout your house. Keep it simple enough and brief enough for young kids. Get creative with ways to help children identify the items they're searching for. Perhaps it's using pictures of items since they probably can't read a list. Give each child a bag or basket in which they can collect their items.
Little Otter Swim School's team members are passionate about teaching kids to swim and be safe as they enjoy the water. We'd love to share more of the benefits of learning to swim with you. Learn more about what makes Little Otter different.