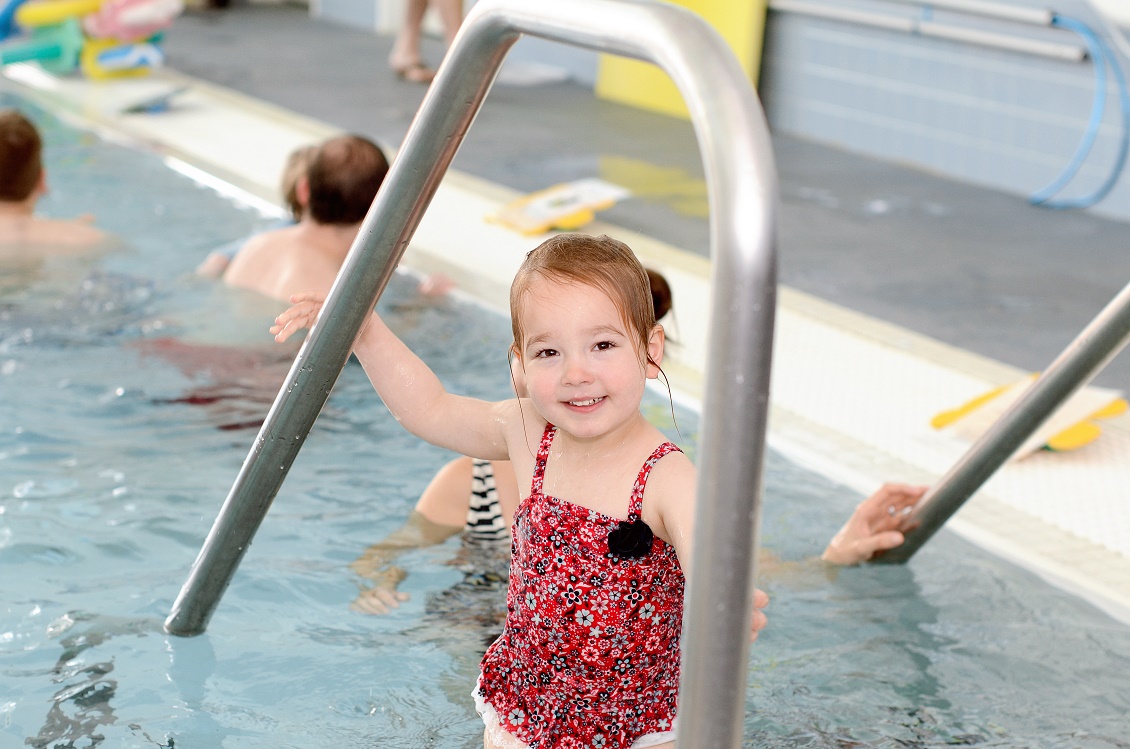 The warmer days are fast approaching, many look forward to sandy beaches and neighborhood pools to beat the heat. We know that our parents are excited to see all of the new skills their students have learned while swimming with us. However, it is common that your little swimmers may have a different experience in the neighborhood pool than they do in swim class. In this article, we provide tips and resources for a smooth transition from structured swim to "free swim."
It is normal for your child to be cautious in an unfamiliar environment. Initially, he or she may want to stay in the baby pool or sit on the steps. Allow them freedom to go at their own pace and explore their new surroundings.
TIP: The first time your child enters the water be prepared to get in with them or go ahead and get in.
It is normal for your child to be cold at the local pool. Your child is accustomed to the 90 degree water temperatures at Little Otter. Most outdoor pools will be several degrees lower in temperature. The cooler waters may play a role in your little one taking longer to feel relaxed and as confident as they do in class.
TIP: Try wearing a thermal rash guard to help reduce shivering.
Avoid flotation devices if possible. Flotation devices such as arm floaties or swim noodles create a false sense of confidence in the water. During swim lessons our focus is teaching swimmers how to be in a horizontal position. In contrast, floaties are intended to keep children in a vertical position making submerging difficult.
TIP: Spend time practicing our #1 safety skill the "jump, turn, and grab the wall" technique.
This life-saving skill is important to review as it reinforces how to be safer in and around the water.
Have realistic expectations about how far your little otter can swim. When instructing your little one to swim it is vital that your directions are clear. Communicate your expected boundaries in and around the pool. Your child may be able to swim the entire length of the pool, or perhaps their comfort level is higher in the shallow end. Allow them the freedom to enjoy the pool within the constraints of your comfort level as a parent.
Assign someone the duty of being the Official Water Watcher. We recommend that this person wear a decorative necklace that indicates that he or she is the Official Water Watcher. This serves as a physical reminder that someone is, and should always be watching the water. While wearing this necklace, the Official Water Watcher must actively supervise the water and give 100% of their attention to the children in the pool. They should sit or stand where they have a good visual of the entire area and be in arms length of any children who cannot swim.
TIP: Have your child make a decorative necklace for the "Water Watcher Tag" as a fun educational lesson before heading to the pool.
ABOUT LITTLE OTTER
Little Otter Swim School provides quality swim lessons in a safe and fun environment that are taught by caring and enthusiastic teachers. Children are learning and gaining respect and love for the water.
From Little Otter, Charlotte families receive an alternative to "typical" swim lessons in year-round, small group instruction in a warm indoor swimming pool where parents can watch their children's progress from the comfortable viewing gallery.
Little Otter Swim School's team members are passionate about teaching kids to swim and be safe as they enjoy the water. We'd love to share more of the benefits of learning to swim with you. Learn more about what makes Little Otter different.
Learn more about what makes Little Otter different.