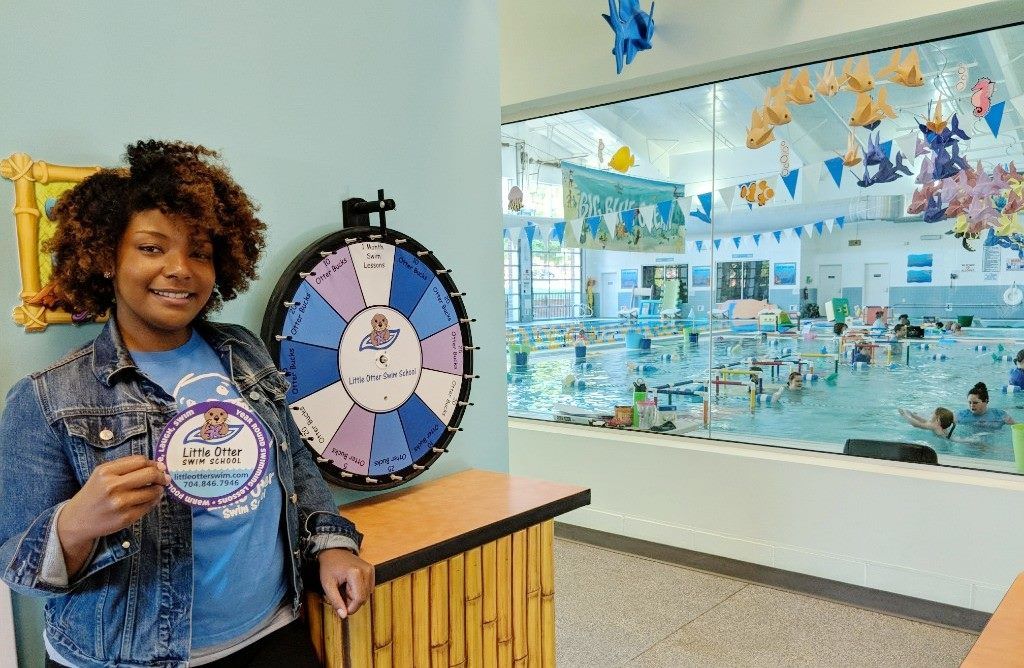 We are always looking for ways to give back to our families. Today we list four ways to earn rewards at Little Otter.
Share your Parent Testimonial – We love all of the feedback we get from our internal customer database, delighted. Now share that feedback with others. Ever wonder how we choose our amazing customers of the month? Not only are they awesome, they also provide positive feedback online. Rewards are our way of saying thank you for taking time out of your busy schedule to show us some love. Each family chosen is given a personalized gift box valued at $150.
Rock your Little Otter Swag for a Chance to Win a Month of FREE Swim Lessons! We love seeing our families all over the greater charlotte area supporting the Little Otter Swim School family. When we spot a Little Otter sticker or magnet on your car we will post the last 3 digits of your license plate on our Facebook page. All you have to do to claim your prize is direct message us with the first three digits of your license plate.
Recommend a Friend – We know the best advice comes from those we trust. For every referral you send our way you get to spin our Otter wheel for a chance to win a month of Free swim lessons. The best kind of compliment our parents can give is the referral of their friends and loved ones.
Follow us Online – We've gone viral! Be sure to follow us on Facebook & Instagram for the latest updates and giveaways.
We hope these four tips on how to earn rewards with us helps to make the lives of our families just a little easier. Thank you for swimming with us!