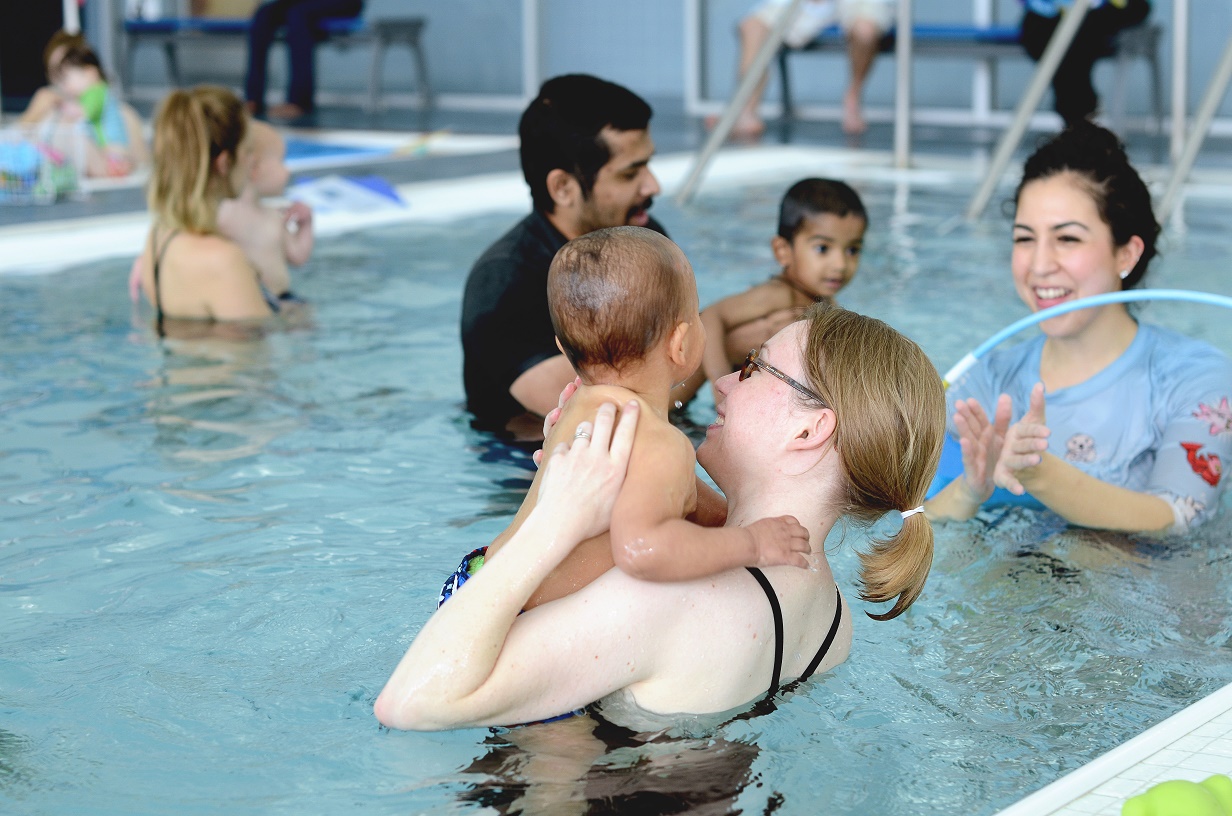 You and your little one are eagerly awaiting the newborn swimming classes that you're signed up for.
You have your list of things your child needs – swim diaper, towel and dry clothes – and basic instructions – arrive early, stay for the entire 30-minute lesson, etc., etc. But what else should you expect? What is in store for you as you and your baby enter a new world of fun and learning?
There's a Long-Term Plan
What takes place in your baby's swimming lesson may appear to be all about splashing and having fun. Parents enjoy this bonding time with their newborns, but some wonder if this "playtime" is actually helping their baby learn to swim. Don't be skeptical but have trust in your selected swim school's curriculum to first get your baby comfortable in the water with songs and movements. After a few months, you'll see progress. It may surprise you how quickly your baby picks up water skills and advances toward real swimming. You and your baby are beginning an amazing journey together – relax and enjoy it.
Mommy Needs Bathing Suit
Baby swimming lessons are designed to have mommy (or daddy) in the pool with baby. This is great for the baby (since your baby is comfortable with you) and gives the instructor the ability to teach several babies in one class. This lesson design also gives you an amazing bonding opportunity with your child.
Feed Your Baby Before the Lesson
A feeding up to half an hour before the swimming lessons is a great idea – but only feed a small amount. It's not recommended to feed a full bottle or solids in the hour before the lesson.
An Extra Feeding For Your Baby After the Lesson
Since you've only fed your baby a small amount prior to the lesson, it makes sense that you need to be prepared to feed your baby afterward – not only that – your baby has burned up lots of energy during the lesson. You may even want to bring your baby's food along because hunger will strike quickly!
Plan for Naptime
Your baby will play and splash for the entire lesson so a powernap after the lesson may be a great plan. It's likely that your baby will also sleep good that night since being in the water is a compete body workout. You may be a little tired too, so you may want to include yourself in that after lesson powernap.
Little Otter Swim School provides quality swim lessons in a safe and fun environment, taught by caring and enthusiastic teachers. While the children are learning they are also gaining respect and love for the water. Little Otter Swim School is an alternative from the typical swim lessons. The school proudly provides year-round, small group instruction in a warm indoor swimming pool where parents can watch their children's progress from the comfort of a viewing gallery.
Sources:
http://www.minnesotaparent.com/swim
https://www.swimbabeslessons.co.uk/faqs/
https://hubbardswim.com/blog/post/new-to-baby-swimming-lessons-5-things-to-expect