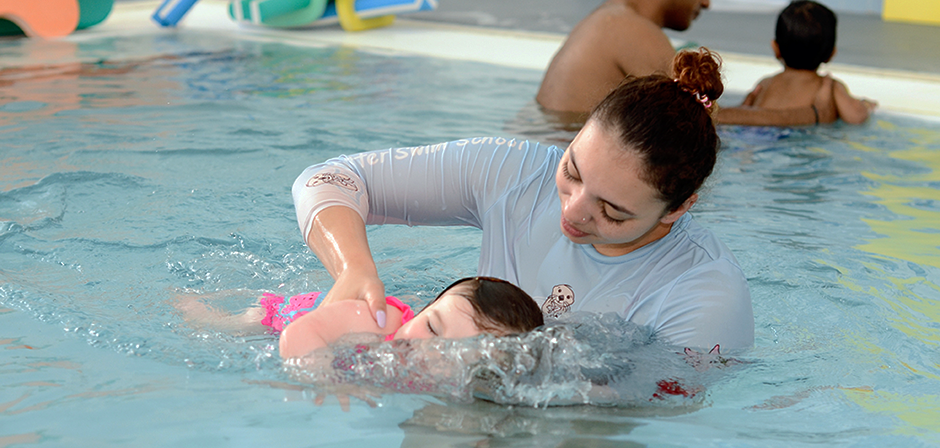 While prime outdoor swimming season is a few months away, indoor swimming is in full swing! This is also a good time for children to learn to swim so they are ready for prime time.
This is an important life skill that we at Little Otter are privileged to teach and we are thrilled when our students beam with smiles with their sense of accomplishment after mastering even the most basic swimming skills and we love hearing the cheers from parents when their children reach swim milestones. These things make us feel great about the job that we are here to do!
It's important for us to see these 2 things happen because we know that they only come about when lessons are taught in the right way and when children get time in the water outside of their lessons.
These things help them to also develop a love and respect for the water in addition to their newly-acquired skills. (Read this article [https://www.parents.com/baby/safety/outdoor/help-your-kids-learn-to-love-swimming/] about helping children love swimming.)
Swimming is a skill sport that requires practice, positive reinforcement and family support.
Think about this comparison:
1 ½ hour swim lesson per week at Little Otter is similar to getting 1 ½ hour reading or math lessons a week at school. Imagine how long it would take your child to learn to read or do math at this rate. That is why you support and your commitment to getting your child in the water outside of swim lessons is critical to how quickly and successfully they learn to swim.
Some swimmers grasp skills immediately, some take more time and patience.
Swimmers also learn in different ways. Some respond best to verbal instruction but others learn best through the visual type.
We know that watching your children progress at different rates is tough because we've watched how our own kids learn. Don't get discouraged. You have some control over this because your help and support outside of the 30 minutes we spend with them per week is what can make a difference in their learning pace.
We have 5 tips we can share with you that can help increase the speed of your child's learning cycle and have them enjoying swimming activities in the water in a shorter amount of time.
1. Be there.
It's very important to be in class regularly. This is the foundation of progress because swimming lessons are a progression. More advanced skills are built in layers upon basic skills that have been learned before. Without regular attendance, this simply won't happen.
Regular attendance also helps the student and instructor to stay in tune with each other and produce quicker results.
2. Practice, practice, practice.
This is something that must happen constantly. How constantly? Well, some learn-to-swim studies show that it can take 100 to 150 hours of consistent, year-round instruction for a child to learn how to swim independently in any water depth.
This is similar to the learn-to-read, -write, -do math process. Children develop more quickly when they have practice time outside of class that follows up instruction time.
3. Set goals to reach goals.
Find out what your little swimmer wants out of swimming lessons. What are their swimming goals? You may be surprised at what your children will say. They may simply want to learn to swim so they can have fun in the pool or they may idolize Michael Phelps and aspire to compete.
The length of time a child should spend in swimming lessons is tied to what they want out of it.
How can you help your child set realistic swim goals?
Here are some examples of swim goals you can share with them:
• To join a summer swim team
• To be able to swim independently in the "big pool" this summer
• To be able to swim in the ocean on our family vacation
• To not have to wear a life jacket or floaties in the water
• To be able to swim in the deep end
Your swimmer also needs to remember that his or her swim goals don't depend on the progress a friend or a sibling but are completely their own.
4. No one should be discouraged.
Because each child's learning pace is unique to them, there should be no comparisons. There may be times that it seems your child has reached a plateau or taken a step back in their learning progression. This is normal and so you can remain positive – not allowing your child to give up. Your consistent in support is as important as the consistency of their lessons and practice.
Remind them often of their swim goals. You may even want to print them and hang them in a conspicuous place.
Share your own fun swimming stories and what awaits them this summer to keep their focus on the FUN that learning to swim bring them and how important this skill is for their safety.
5. All-the-time swimming.
When you talk about consistency, you cannot ignore swimming all year long. Keeping your child in swimming lessons year-round is the best way to ensure consistency of learning. In other words, a child taking year-round swim lessons is far less likely to experience learning plateaus or gaps where skills have to be relearned before moving to the next in the progression is possible. Rarely can seasonal students gain any sort of learning momentum and sustain their confidence in their water skills.
Your role as a swim parent is much more than delivering your swimmer to lessons and watching. You are part of their swimming investment and critical component of their ability to learn this important life skill.
As an aside, there are also a few mistakes you'll want to avoid as you help your child progress through swimming lessons:
• Don't rely on online drill videos.
o There is plenty of info online, but don't base lessons or practice on these.
• Don't ignore poor body mechanics.
o If your child's instructor provides instructions for helping to align poor mechanics, follow them.
• Don't scare your child.
o Do not force safety exercises on your child or transfer your own water-based fears to your child or
• Don't push too hard too soon.
o Be supportive and encouraging but allow progress to be at your child's pace.
• Don't forget kicks.
o Lots of focus is placed on arms and strokes, but don't ignore the legs and learning kicks as the engine that propels them. A stroke is useless if you're not moving forward.
Little Otter Swim School provides quality swim lessons in a safe and fun environment, taught by caring and enthusiastic teachers. While the children are learning they are also gaining respect and love for the water. Little Otter Swim School is an alternative from the typical swim lessons. The school proudly provides year-round, small group instruction in a warm indoor swimming pool where parents can watch their children's progress from the comfort of a viewing gallery.
Learn more about why Little Otter Swim School is the best place in the Charlotte metro and Huntersville areas to learn to swim.
Sources:
https://www.thoughtco.com/mistakes-to-avoid-teaching-kids-3865856