At Little Otter Swim School in Huntersville, NC, our mission is to provide swim lessons in a safe and fun environment. We provide year-round lessons and group instructions in our indoor pool. We offer Baby Swim Classes; Beginner Swim Classes for 3-5 Year Olds; Beginner Swim Classes for 6-11 Year Olds; Intermediate Swim Classes; and Advanced-Excel Swim Team.
LESSON PRICING:
Private Lesson – (Once per week – 1:1 Ratio): $150/month
Private Lesson – (Once per week – 1:1 Ratio): Starfish, Redfish and Yippy Yellow Tang – $113/month
Semi-Private Lesson (Once per week – 2:1 Ratio): Parrotfish, Golly Green Guppy, Dashing Dolphin, and Blazing Barracuda – $110/month
Baby and Team Lesson: (Once per week – 4:1 Ratio): $89/month
Prices are figured on an annual average (Calculation: individual lesson price x 52 weeks divided by 12 months). Classes will be pro-rated based on the start date and sibling discounts apply.
There is a $35 annual registration and administration fee per family.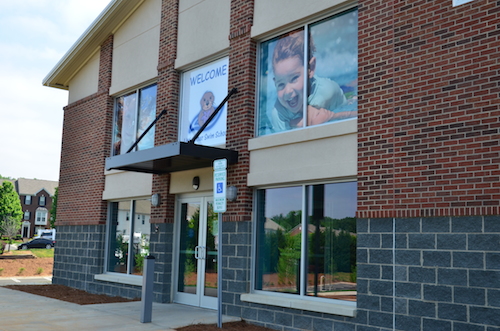 WHERE TO FIND US
Little Otter Swim School is located at 14415 Reese Blvd., Huntersville, NC 28078, conveniently located off of Gilead Road on Reese Boulevard. We are open 6 days each week offering classes for thousands of children in our area.
Monday – 9AM–8PM
Tuesday – 9AM–8PM
Wednesday – 9AM–8PM
Thursday – 9AM–8PM
Friday – 9AM–8PM
Saturday – 8AM–4PM
Sunday – Closed
FIND A CLASS FOR YOUR CHILD