Little Otter Swim School provides advanced swimmers appropriate classes based on age. We teach each child with a gentle and encouraging approach and recognize that every child is different and has different needs. Our goal is to challenge your child and lead them along the path of learning to swim. Click on the appropriate link below to find out more about each class.
Mighty Makos
The Mighty Mako class extends the swim distance to laps of the entire length of the pool (75 feet). Freestyle endurance is built as students learn to maintain their stroke technique as the tire.
The breaststroke is taught from start to finish in this level. In addition to stroke technique, freestyle and breaststroke starts and turns and speed techniques are introduced.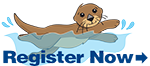 Prerequisite: Swimming freestyle with bilateral breathing and bent arm recovery 60 feet & elementary backstroke 40 feet
Final Goal: Several laps of rhythmic breathing freestyle with refined technique, mastery of breaststroke including the whip kick, arms, and timing
Speedy Stingrays
This class introduces the two remaining strokes into our curriculum, backstroke and butterfly. Though back kicks have been introduced in previous levels, backstroke arms are taught and butterfly is taught from start to finish. Stroke technique and endurance is emphasized as the students begin medley swims involving all four strokes. Though freestyle and breaststroke have been taught in previous levels, those strokes are still practiced within this level.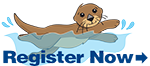 Prerequisite: 2 laps of rhythmic breathing freestyle and 1 lap of breaststroke
Final Goals: Swim competitive backstroke and butterfly 80 feet